Pay only for what you really use!
Nowadays, companies and organizations that do not take advantage of cloud services must be searched with a magnifying glass. At the same time, all concerns about the cloud have not completely disappeared. Security and user experience issues are constantly being raised by customers. Despite the fact that the cloud has become part of everyday life, it still does not automatically solve all IT problems. At the same time, the positives can be exploited on the locally installed IT infrastructure – offering a solution to the problem of required performance versus cost reduction
In an ideal world, you only have to pay for the system that the customer actually uses. In addition, it is not necessary to plan three to five years in advance, to make predictions about the company's future IT needs.
This ideal world was brought by HPE GreenLake consumer-based financial construction , which was launched for the first time in Hungary – the market-leading HPE distributor, the products of more than two hundred manufacturers, which have been present in the country for 22 years. distributor – Ingram Micro Magyarország Kft. offers through system integrators
HPE supports the new sales approach of Ingram Micro Magyarország Kft. As a distributor – supplementing the service portfolio offered to its resellers with HPE GreenLake. It also contributes to success through education, planning, or even marketing tools.
Using the HPE model, an IT system scaled to the customer's current needs, with a pre-planned excess of performance of 10-20 percent. work at its premises. In addition, the price of the extra option does not appear on the expenditure side until it is really needed.
The moment the customer exceeds the basic infrastructure, he has immediate and smooth access to this reserve and system expands flexibly. As a result, the infrastructure becomes precisely sized, but there is no need to invest in untapped resources with significant investment.

Infinite storage space
Many companies have a problem with the almost always scarce, small storage space. The HPE GreenLake subscription model not only saves start-up costs for
It is practically guaranteed to avoid the business risk of running out of free space and to increase resources in a cloudy way, it can be developed in stages. Continuous monitoring of utilization makes it easier to forecast and quantify the need for expansion.
Oversized infrastructure is eliminated , since at the outset it is sufficient to adapt the future IT system only to the current consumption – with the said reserve.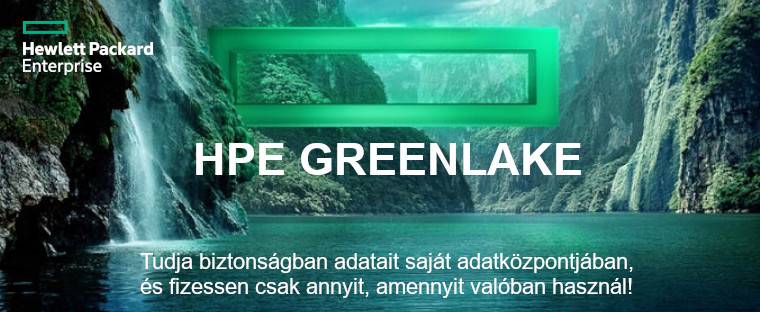 The situation of financial managers will also be easier, as they can expect a well-planned monthly expenditure instead of having to decide on large investment costs. In addition, the burden on IT staff can be reduced, making the work of the IT team and thus other employees more efficient.
The HPE GreenLake is recommended for all companies and organizations, but it is especially timely to implement it where they have already reached the limits of their current infrastructure, but for financial or other reasons they stay from major investments. The process can be started without an initial large investment, and the decision pays off quickly, as the amount spent on costs can be used for other activities of the company. The present value of capital not spent on IT development is much higher if it is invested in the company's core business.
The consumption-based design is primarily ideal for developing organizations. Constantly growing companies are not able to provide as good an estimate of future resource needs as can accurately serve existing IT needs with HPE GreenLake
A subscription model similar to vehicle leasing results in a cost-effective and predictable infrastructure that is adaptable at all times. It makes every leader's dream come true and adapts IT to business needs and requirements instead of IT, which requires huge investments.

The post Cloud experience between the 4 walls: a monthly fee service instead of an investment appeared first on World Weekly News.