Hot spots are a nightmare for both pup and pawrent, you can almost feel your pet's pain and itchiness when you see these nasty, reddened crusts on your fur-baby's skin. In this article, we'll give you a rundown on some of the available hot spot shampoos for dogs to help soothe your pup's skin.
Vetericyn FoamCare Medicated Pet Shampoo
This foaming shampoo is medicated to help clean and soothe a variety of minor skin issues for pups. This anti-inflammatory shampoo doesn't strip your pet's skin of its natural oils and is hypoallergenic so it's suitable for even sensitive pooches. 
Instantly foaming, this shampoo both cleans your pet's fur and skin while salicylic acid reduces inflammation.
Vetericyn has produced a soothing, foaming shampoo for all minor irritations and abrasions for our canine companions. Directed at soothing even the most sensitive pup's skin this shampoo is both sulfate and paraben-free.
Veterinary Formula Clinical Care Hot Spot & Itch Relief Shampoo
Synergy Labs have developed a shampoo specifically for relief of itchy, "hot spots". This medicated shampoo includes the local anesthetic lidocaine and hydrocortisone which is an anti-inflammatory steroid to help soothe the pain your fur-baby feels when suffering from acute moist dermatitis.
Lidocaine provides local anesthesia of the inflamed area while hydrocortisone targets inflammatory compounds produced in the body to stop the itch cycle.
This medicated shampoo contains clinically proven lidocaine and hydrocortisone which will help relieve your pup's pain while targeting and reducing the inflammation. Paraben and dye-free, this shampoo also contains allantoin which protects and aids in skin healing. This product has the added benefit of being safe to use without affecting the action of flea and tick medications.
Vet's Best Hot Spot Shampoo for Dogs
This veterinarian formulated shampoo combines natural ingredients to rapidly soothe your itchy pup's irritated and dry skin. Containing antimicrobial tea tree oil, calming chamomile and soothing aloe vera and perfect for puppers over 12 weeks of age, this shampoo is safe to use with topical flea and tick treatments.
A carefully formulated blend of essential oils and natural ingredients helps encourage healing of "hot spots" using the astringent and antimicrobial properties of tea tree oil and regenerative properties of allantoin while aloe vera and chamomile soothe the active irritation.
Vets Best Hot Spot Relief Shampoo is a blend of natural ingredients including allantoin and vitamin E and panthenol to help support skin healing. Made in the USA, this shampoo is safe for puppies over 12 weeks and doesn't interfere with topical flea and tick preventative medications.
NaturVet – Septiderm-V Skin Care Bath
Septiderm-V is formulated to relieve the itch caused by a range of skin conditions including "hotspots" and allergies. Suitable for puppies over 6 weeks of age, this shampoo is also suitable to use as an all-over bath for sensitive skinned pooches.
This shampoo cleanses the skin thoroughly without stripping your pup's natural skin oils and contains CTAB which is a component in antiseptics to provide antimicrobial activity.
Relief from itching while also cleaning your pup's mucky coat means you don't need to use multiple products that may exacerbate their skin problems. As it can be used on puppies from just 6 weeks old, it's great for those who have scratched their skin raw from a flea infestation. 
Vet's Best Dog Hot Spot Itch Relief Spray
Formulated to be gentle enough for daily use, this "hot spot" relief spray is the perfect complement to use between baths with Vet's Best Hot Spot Shampoo for dogs. A convenient, leave-in spray made with natural ingredients is safe to use with topical parasite products.
Chamomile and aloe soothe inflamed skin while tea tree oil helps to combat infection.
This spray is a convenient, plant-based product that can be used to soothe minor skin irritations on sensitive skin without having to fully bathe your fur-baby. Veterinarian formulated and steroid-free, this spray doesn't interfere with topical flea and tick products.
Vet's Best Quick Soothe Hot Spot Foam for Dogs
Formulated to be gentle enough for daily use, this "hot spot" relief spray is the perfect complement to use between baths with Vet's Best Hot Spot Shampoo for dogs. A convenient, leave-in spray made with natural ingredients is safe to use with topical parasite products.
Chamomile and aloe soothe inflamed skin while tea tree oil helps to combat infection.
This spray is a convenient, plant-based product that can be used to soothe minor skin irritations on sensitive skin without having to fully bathe your fur-baby. Veterinarian formulated and steroid-free, this spray doesn't interfere with topical flea and tick products.
Vetericyn Plus® Hot Spot Antimicrobial Hydrogel
This soothing hydrogel is suitable fo use multiple times per day for all minor skin issues and "hot spots". Providing rapid relief, this gel adheres to your pooch's skin to help speed up healing. Some tests have shown that this antimicrobial hydrogel may actually be effective against yeasts and even MRSA.
Hypochlorous acid is a very weak acid and within this hydrogel, the formula helps to promote wound healing through fighting bacteria and encouraging cell growth.
Gentle, non-toxic, and safe for all ages of pet, this hydrogel provides moisture and a protective barrier for damaged skin. Non-toxic, this is suitable for pets of all ages, even the most sensitive pooches.
Vetericyn Plus® Hot Spot Spray
Multi-action, this spray cleans and soothes skin stricken with "hot spots".This spray provides rapid relief and speeds up healing which helps decrease licking and scratching at the affected areas. Preventing infection, this spray is free from alcohol and medication and is even safe for young puppies.
The potent antimicrobial activity of hypochlorous acid prevents infection while encouraging the growth and development of healthy skin.
Instantly-cooling and non-stinging, Vetericyn Plus Hot Spot Spray is a great product to use the second your pup starts scratching. Promoting healing, providing moisture, and protecting delicate, new skin cells this safe product can be used multiple times per day.
NaturVet – Aller-911 Hot Spot Allergy Aid Foam Plus Aloe Vera
NaturVet has developed this foam with soothing aloe vera to help relieve the irritation and itch caused by "hot spots". This product also contains a 'bittering' agent to prevent your pet from further chewing or licking the irritated area. Aller-911 is safe to be used with flea preventative products.
Witch hazel and tea tree oil have astringent properties that dry the excess moisture associated with "hot spots" while aloe vera soothes inflammation and the added bittering agent deters your pooch from licking and chewing at the area to allow healing.
Aller-911 is a soothing foam containing both aloe vera and the astringent, witch hazel that provides rapid relief for pups with skin irritations. Prevents chewing through the use of a bittering agent within the product.  
Zymox Topical Hot Spot Spray for Dogs and Cats with .5% Hydrocortisone, 2oz
Soothing anti-itch spray with a patented LP3 enzyme system and 0.5% hydrocortisone, this product is suitable for use on minor wounds and itchy skin conditions. Non-toxic and antibiotic-free Zymox topical spray reduces swelling and promotes skin healing.
The patented enzyme system reacts with debris caused by inflammation to produce antimicrobial activity with a lasting effect. Hydrocortisone helps to reduce swelling and the itch caused by dermatitis.
Zymox topical spray contains a mild concentration of the steroid, hydrocortisone to help reduce swelling and soothe inflammation caused by "hot spots" and mild skin infections. Containing a patented LP3 enzyme system and added aloe vera, the product aims to promote healing of the skin. Suitable to use on minor cuts and abrasions as well as dermatitis.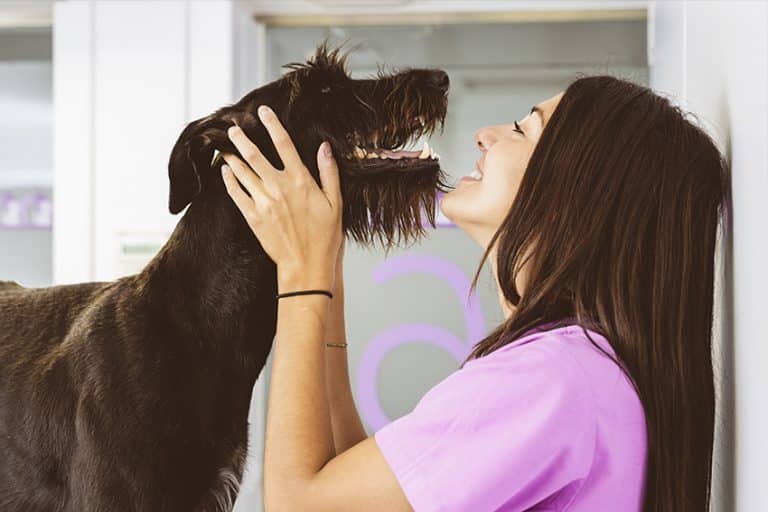 "Hot spots" aren't just the purview of sensitive pups with allergies. Any irritation or pain site has the potential to become a "hot spot" due to the excessive attention paid to the area by chewing and licking which damages the skin allowing microbes to invade and start an infection.
"Hot spots" spread fast and seem to come out of nowhere. One day, you're stroking your pet and find this small, angry, red, painful patch of skin and suddenly it seems to be spreading day by day. Once these irritated areas are infected they develop and expand exponentially. 
Understanding hot spots on dogs
Also known as pyoderma or acute, moist dermatitis, hot spots are skin infections are caused by commensal (normal) bacteria that live on the skin. Sometimes these bugs override a dog's immune system to damage the skin itself. The affected area then reddens (inflammation), and becomes intensely itchy. Affected pets then scratch the area, which then becomes moist and infected. As pus oozes out it dries and forms tough crusts which cause hair loss and are really painful when touched. These spots can grow quite fast so treatment early on is key. As a vet, I tend to see hot spots more during the warm, humid summer days though some pets can be affected all year round.
There are many causes of hot spots, really anything that irritates the skin can turn into one. All of our canine companions carry the bacterium, Staphylococcus intermedius. This bug is the most commonly found in "hot spot" infections.
There are lots of treatments lauded on the internet for hot spots, however treating any underlying problem is also required. Possibly the most important part of treating hot spots is allowing the skin to be exposed to the air. As most hot spots are infected, antibiotics are needed which means your pup will need a trip to their veterinarian.
How to treat a small, non-painful "hot spot" at home
There are lots of products available but you should always check with your veterinarian before using anything. Many human products can be toxic to our canine companions.
Veterinary treatments come in a number of guises but include antibiotics, anti-inflammatory drugs or steroid medications to help treat the inflammation and infection. Your veterinarian will also advise an e-collar or similar to protect the "hot spot" from your fur-iends paws and tongue as they strive to scratch the intense itchiness. Some pups are in so much pain from a "hot spot" that your veterinarian may need to sedate or anesthetize them in order to clip and cleanse the area. Your vet may also culture the bacteria or perform cytology (look at cells under a microscope) to determine the best medication for your pooch.
As the old adage rightfully says, "Prevention is better than cure" and there are a few things we can do to help prevent our pooches from suffering with hot spots.
Should I take my dog to the vet for hot spots?
Some small "hot spots" can be treated at home. Non-painful, small areas of irritation can be treated at home. Remember though, these can rapidly expand and if your pet is painful or there is any indication of infection you should make an appointment with your vet. If you're not sure, always contact your veterinarian in the first instance.
How long does it take for a hot spot to heal? Most "hot spots" will heal about 7-10 days after starting treatment. Once it's dry and no longer crusting or oozing any fluid and the area is kept clean and dry then your pup's hair should start to grow back after 2-3 weeks.
Can a dog's hot spot go away on its own? No, "hot spots" tend to spread rapidly and are prone to infection by the bacteria that normally live on the skin which means they only get worse without treatment.
Can hot spots make a dog sick?
"Hot spots" tend to not cause sickness such as vomiting or diarrhea in pets. The stress, itching, and pain that comes with the infection, however, will make your fur-baby miserable and depressed. As "hot spots" spread so quickly, they can develop into serious infections which can make your pup very ill.
Can you put Vaseline on a dog's hot spot? No, vaseline traps moisture against the skin and doesn't allow any air to circulate around the irritated skin, this can actually make dermatitis worse.
Is it OK to put Benadryl cream on dogs?
Benadryl cream may be used to relieve an itch, however, you should contact your veterinarian before using any human medications to ensure it's appropriate. The cream isn't a substitute for clipping and cleansing the irritated areas.
Can you use hydrogen peroxide on dogs' hot spots? Hydrogen peroxide can actually slow healing of wounds and "hot spots" because it also damages skin cells that are needed to heal the area. The best thing to do is to use warm water to bathe your pet's wounds or dermatitis.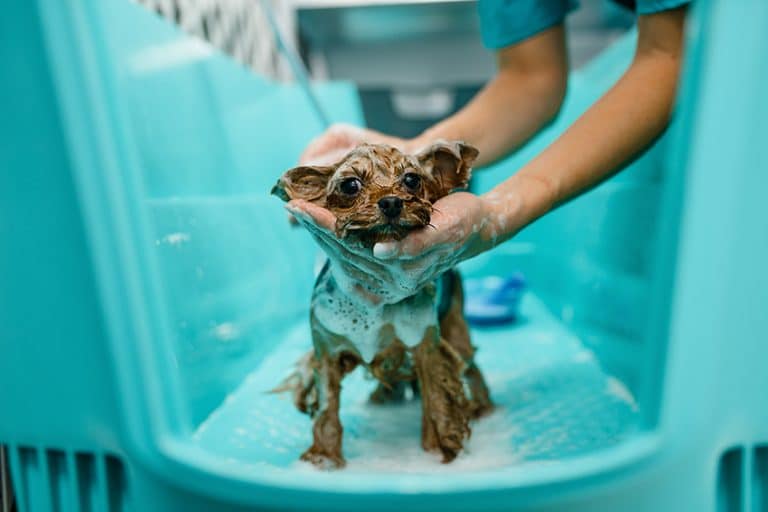 Spray-on with instant foam action
this shampoo is so easy to use and easily rinses out of even the thickest fur coat. Vetericyn has developed a hypoallergenic, paraben-free medicated shampoo that's plant-based and fragrance-free.
The active ingredient, salicylic acid, helps to exfoliate dead skin cells and crusts from irritated areas to expose the new tissue to fresh air.
It also helps to reduce the production of oil in the skin, helping to dry the "hot spot" and improve healing.
Soothing aloe and added allantoin help to reduce inflammation while promoting healthy, new skin growth.
No antibiotic formula means you don't need to worry about increasing the risk of resistance in bugs. Vetericyn is the top dog in the available "hot spot" shampoos for dogs; the delicate blend of science and natural ingredients produces a product that is a must-have for all first-aid kits for pups.