ACNE FREE SEVERE ACNE 24 HR CLEARING SYSTEM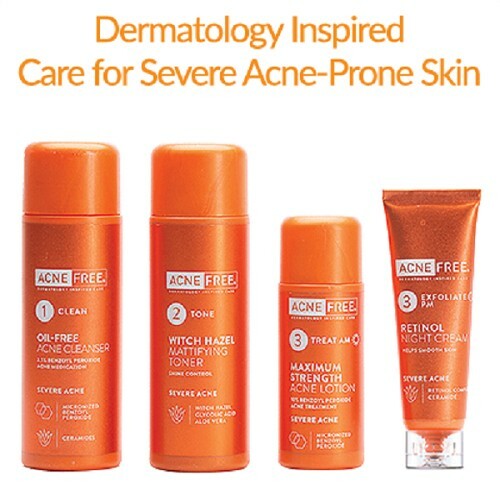 ACNE FREE SEVERE ACNE 24 HR CLEARING SYSTEM 
Severe acne is more than the occasional pimple and requires an extra-strength solution to reduce excess oil and minimize persistent breakouts. Featuring four powerful formulas with high concentrations of acne-fighting benzoyl peroxide and retinol, the Acne Free Severe Acne 24 HR Clearing System is specially designed for stubborn, frequent blemishes that do not respond to traditional acne products.This four products acne clearing system works around the clock to reduce the severity of blemishes and help prevent new pimples from forming.
Step 1 – CLEAN: Oil-Free Acne Cleanser
With 2.5% benzoyl peroxide, this cleanser effectively removes excess oil, dirt and debris while preparing the skin for additional anti-acne products that follow.
Step 2 – TONE: Witch Hazel Mattifying Toner
Astringent witch hazel offers maximum mattifying that keeps shine at bay all day.
Step 3 (AM) – TREAT: Maximum Strength Acne Lotion
Packed with 10% benzoyl peroxide, this maximum strength treatment fights existing blemishes and helps prevent new ones from forming.  
Step 3 (PM) – EXFOLIATE: Retinol Night Cream
This lightweight nighttime retinol treatment gently exfoliates to prevent clogged pores and reveal healthier-looking skin. 
Product Expiration of 8/31/2021 - Sold Directly By AcneFree
The ACNE FREE SEVERE ACNE 24 HR CLEARING SYSTEM destined to impress, and priced at only $24.95, for a limited time.

Inventory Last Updated: Apr 16, 2021